Homespun by Matt at the Andros
2021-09-01
Homespun by Matt fills that experiential gap between good bistro food and fine dining. All the rich flavours and robust comfort-food satisfaction of the best bistro food with the beautiful presentation and celebratory pizzazz that fine dining brings to the table. The Blouberg restaurant opened in 2015 and its quirky exuberance quickly attracted a loyal following. Now Matt Schreuder has opened a second restaurant, this time in Cape Town's Southern Suburbs at boutique hotel The Andros.
The new space is a step up in elegance from the cheerful, slightly rustic interior of the Blouberg Homespun. A light and airy wing of the Cape Dutch style hotel with tall windows overlooking the grassy courtyard garden, the décor is simple but effective, comfortable unvarnished wood chairs, a striking mural and big marble fireplace, plus a good-sized terrace area that anticipates sunny summer days.
Matt spends his time between the two restaurants and has attracted a top team to the new venture. Head chef Chris de Jongh has moved over from Homespun Blouberg, (before that he was sous chef at Exhibit A), pastry chef Chris Morrison was previously head pastry chef at Exhibit A, and sommelier Michelle Michaels joins the team from Greenhouse, bringing a fresh level of expertise to the creation of a new wine list and wine pairings, which were spot on throughout our meal.
Fresh, new and exciting the new venue may be, but Matt's ethos remains the same, there's no messing with his winning formula. "We want real people and we want real food," says Matt. "Even though we put a lot of effort into the presentation, I believe that the food is still real and authentic. A real experience that you can engage with. We want you to feel like you're in your own home, leave all the pretentiousness behind, feel you can laugh a bit louder, just relax and be yourself."
About 60% of the menu here is favourites old and new from the original Homespun menu, Matt says his regulars wouldn't have it any other way. They were already out in force when we visited on a Saturday lunchtime – Southern Suburbs residents who used to have to trek out to Blouberg are flocking to support the new space.
One secret of the success of the original Blouberg Homespun is that the price point from the first has been tailored to locals. "For me local is lekke and throughout the year we're busy, the locals know that I've got their back," says Matt.
We caught the winter special which ended on 31st August, excellent value for the tasting menu at R475 (normally R595) with wine pairings (R375) for the lucky non-drivers. You can also enjoy the same selection of dishes as a three course à la carte menu with or without wine pairings.
The food
So what did we eat? Between the four of us we managed to sample most of the menu, as the tasting menu allows a choice at each stage, so I'm not going to do a blow by blow, mouthful by mouthful dissection… here are a few highlights and I'll leave the rest for you to discover.
Prawn dumplings in a light dashi broth, spicy with togarashi and topped with katsuobushi, light fish flakes that shimmered in the heat of the dish - so good, warming but light and intensely seafood umami – the wine pairing with this was a delight - Raptor Post from Fable Mountain Vineyards in Tulbagh, the chenin, colombar and viognier blend dancing easily with the spices and heat from the dish and losing none of its nuances.
The beef tataki reminded me of our first visit to Homespun in 2016, and in fact Matt says that dish hasn't changed at all, a crowd pleaser of tender beef fillet flash-fried in a panko crust, with onion puree, a touch of wasabi, pickled ginger and burnt onion gel for emphasis – nicely paired with Swartberg Wingerde Miracle Bush white blend. The confit pork belly pancake was also a winner, and I enjoyed the vegetarian take on daikon, crunchy and flavourful with kimchi, some palate-tingling heat from a green curry emulsion.
After a molecular magic palate cleanser of champagne sorbet, it was onto the mains. A succulent slow cooked lamb roulade with a side theme on corn seven ways was sumptuous and full of textures and contrasts, especially paired with the bright berries of La Bri Affinity 2016 a Bordeaux blend from Franschhoek. My husband loved his gammon, another Homespun traditional favourite, slow cooked then beer battered, with a burnt orange glaze and sauced in the soft richness of a pecorino velouté.
Dessert is where Matt's natural exuberance is given free rein, with pastry chef Chris Morrison taking it to a new level on the all-new dessert menu, so don't hold back! I loved the plays between sweet and savoury with herbal and salty elements woven though. Not usually a white chocolate fan, the beetroot dessert won me over, a shell of white chocolate and sheer candied beetroot slivers, their earthy sweetness gentled by the dessert treatment. When firmly tapped, the globe fell into two halves to reveal an oh so pretty pink and white confection of delicious creaminess.
The chocolate dessert, with salty olives, herbaceous hints of thyme, and coffee sorbet, was deep and dark with a gorgeous tonka bean caramel sauce. And the 'not a banana' is a hit with fun food aficionados, blending flavours of basil, passionfruit, banana and peanut, and I'm not going to spoil any of the surprise by telling you more.
We'd lingered for an enjoyable three hours over our meal, in no rush to go, so the final theatrical flourish of the petits fours was a welcome excuse to stay a little longer – presented in a Star-Wars-esque container smoking with dry ice, on crystals and botanicals, a delectable banoffee macaron, granadilla truffle and sesame whispa made a perfect indulgent finale to a lovely lunch out with friends.
Matt is full of new ideas – so watch out to see what more he brings to the Andros Hotel in the near future – he hinted at fabulous high teas, breakfasts, garden picnics and more. For now lunch and dinner at Homespun at the Andros looks like it's already the place to go for locals with anything to celebrate, whether it's a birthday, an anniversary or just the fact that it's the weekend!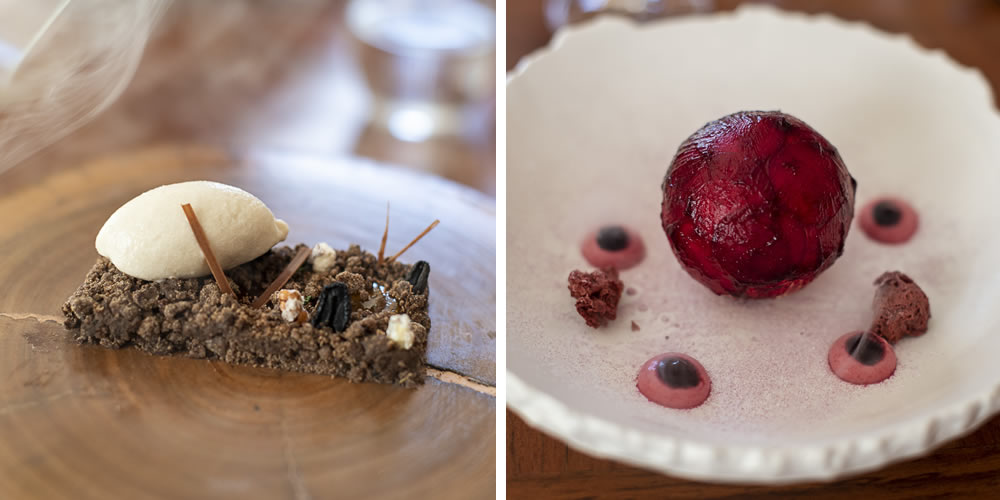 Chris de Jongh (Head Chef) and Matt Schreuder (Executive Chef)
Read my original article on Homespun in 2016 written for Sunday Times Neighbourhood https://www.reallifemagazine.co.za/homespun-back-to-better-basics/
Where and when
Homespun by Matt at the Andros Hotel
5 Phyllis Road, Claremont
021 761 4520
Website
https://www.homespunbymatt.co.za/homespun-at-the-andros
Opening
Tuesday to Sunday 12h00-15h00 / 17h00-21h00
Menu
Tasting Menu R595 Wine Pairing R375
3 course menu R475 Wine pairing R275