Rykaarts – a Stellenbosch restaurant for the everyday gourmet
2022-02-21
A sultry summer evening, tables filling the pavement, couples sauntering between tables checking out the menus along the row of wine bars, restaurants and gin bars, a babble of chatter in several languages rising above the noise of passing cars… close your eyes and it could be any European small town. Open them and it couldn't be anywhere but Stellenbosch – those oak trees casting pools of shade and framing slivers of mountain views over the rooftops of the historic white buildings of Dorp Street.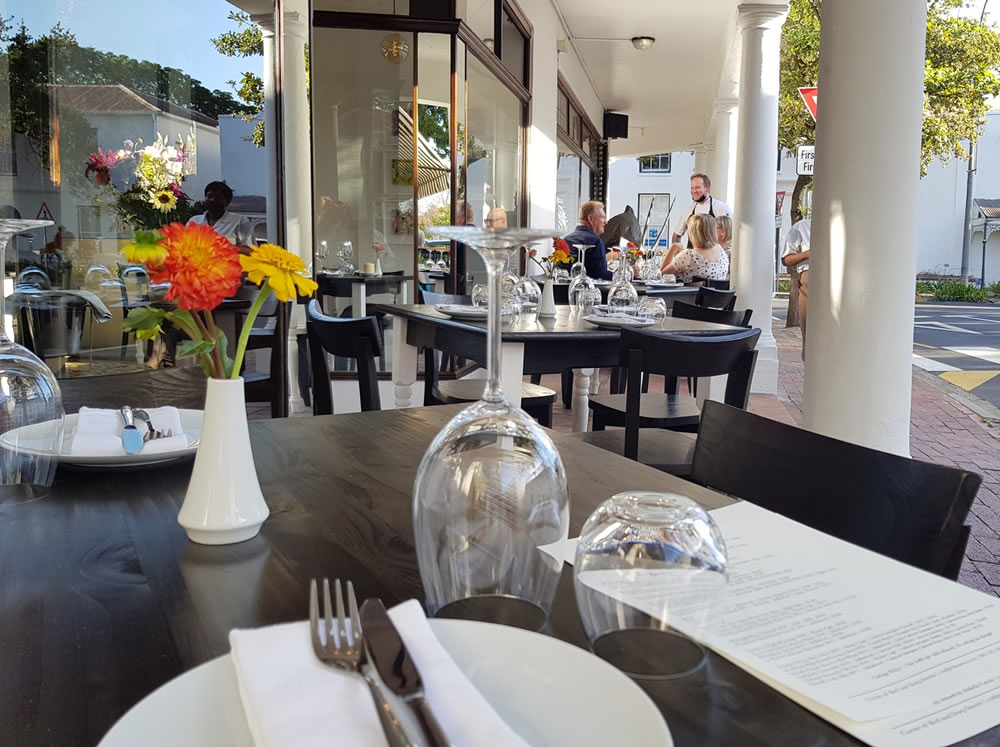 Photograph by Kit Heathcock
My mum had just arrived from the middle of a UK winter, her first visit since Covid struck, so it was a treat to be sitting out on the pavement outside Rykaart's in warm sunshine, people-watching and enjoying good food. People are wearing masks of course, but otherwise it could be pre-pandemic – Stellenbosch feels back on track, refreshingly normal and normal has been in short supply for all of us.
Rykaart's is a first time solo venture for Alex and Ella Rykaart, both of whom have years of experience in the restaurant industry and decided now was the time to realise their dream. "The tail end of a pandemic, there is no more perfect time to do it," says Alex. "Everything economy-wise is on a low, I think it can only go one way."
Alex is fresh from four years as head chef at The Vine Bistro under Christophe Dehosse – a solid foundation of French cuisine pervades the menu, varied with other influences gathered along his chef journey. "I started at Bread and Wine and charcuterie with Neil Jewell, and then I went to Le Quartier with Margot Janse and that's a whole different ball game, super fine dining," he says. "Then pizzas at Burrata, owned by Neil Grant. When he opened up Open Door (on Constantia Uitsig) I was head chef there, a different kettle of fish doing 400 covers a day." This is where he and Ella met, when she was a junior manager there. After Open Door Ella decided to train as a chef and spent a year in the kitchens at Jardine, before deciding that front of house was her natural métier.
Photographs by Kit Heathcock
Alex next did a stint in California at 3 Michelin star Manresa, contemporary global with a lot of Japanese flavours, before he came home to South Africa and worked for Christophe, who he says is a valued mentor. "Christophe gave me the courage to open up the new shop." I ask him how he'd describe his approach at Rykaarts. "Contemporary… I wouldn't call it fusion, but definitely a strong French background."
As Alex and Ella talk us through the menu their priorities become clear – supporting the small local producers they've worked with over the years, selecting wines from friends who they know are producing something special, seeking out the suppliers, mostly local, who really do things with love. Alex aims to do the best steak and chips in Stellenbosch using beef from Langside, a small farm in the Eastern Cape – one of the few suppliers who aren't strictly local. "I discovered this place in Queenstown outside East London, and they are phenomenal, once again a small farm, they only do ten beasts week. Pasture-fed, it's fantastic, such a unique flavour."
The essence of Alex's philosophy is simplicity, allowing each ingredient to speak for itself "One of my personal favourites is pan con tomate – I make sure I ripen the tomatoes for at least a week until they're soft and ripe, ripe, ripe. I just grate them with olive oil and salt, on a piece of toasted sourdough with a few anchovies on top." We order it immediately - a flavourful snack that takes us in spirit to the Mediterranean coast in the blink of an eye. We also love the airy cheese gougères, also from the snack section.
Photographs by Kit Heathcock
The menu is designed to be flexible and suit any occasion. Those snacks can be a pre-meal appetiser while you take your time ordering. They could even be a light lunch with a beer. We ordered them as starters, although the small plates section can also be plundered for starter material. Or just share your way through all six small plates in two courses – braised beef cheek roll with Vietnamese pickles sounds delicious as does the Zandam for di latte with perfectly ripe nectarines, honey and basil. It's a hot evening though, so we save our appetites for a main course.
We haven't done the rounds of the town to judge whether Alex's steak ranks as the best in Stellenbosch, but from the quality we taste this is definitely a contender. Flavourful rump steak seared simply and sauced with herby chermoula sauce, some rich jus, and chunky triple cooked chips. Classic excellence. I go for the vegetarian option, because it sounds so good – agnolotti stuffed with home-made ricotta scented with lemon zest and topped with a rich caponata sauce – tomatoes, olives, capers, aubergines - and a hidden depth from the addition of dark chocolate. With toasted pecan nuts on top, it's a jewelled feast of flavours.
We're flagging now in the sultry evening warmth and take a pause for reflection before our dessert, sipping from a refreshing jug of ginger cordial. The sun has dipped below the mountains and a light breeze keeps things fairly comfortable, but it's good to know that Rykaart's now have air conditioning inside to get them through the Stellenbosch summer heat. The open kitchen with Alex at the helm takes up one wall, the others are filled with striking paintings by artist Arabella Caccia, Ella's mother, who is a supportive partner in the business.
The desserts, when we finally decide we're ready for them, give us a second appetite – a rich dark chocolate marquise surrounded by a light cardamom custard and topped with crisp sesame nougatine ticks all the sensory boxes. And a close second is the crème brulée studded with raspberries and scented with orange.
Rykart's is definitely on my list for a return visit, I need to work my way through the small places section.
Where And When
Rykaart's,
Corner of Bird and Dorp Streets,
Stellenbosch
061 545 1465
Website
Opening
Wednesday – Sunday, 12pm – 3pm; 6pm – 9pm
Tuesday, 6pm – 9pm
Disclosure
Disclosure Visited January 2022 as guests of Rykaart's. Also see my review written for The Inside Guide about the same visit. https://insideguide.co.za/cape-town/restaurants/rykaarts-stellenbosch/