Scarpetta
2021-10-21
"Don't bother looking at the board, I'll tell you what there is," calls Ricky, when he sees me perusing the big chalkboard menu on the wall of his trattoria, Scarpetta on Roodebloem Road. This is a return visit to celebrate our daughter's birthday, and I remember his jovial and expansive personality from when Scarpetta first opened in 2019. The basic menu on the wall has a short list of unchanging classics ... spaghetti bolognese or napolitana, pasta with mussels or mushrooms, but the results of his morning's shopping foray show up in the specials, which when our kids have arrived, he comes to recount to us at the table.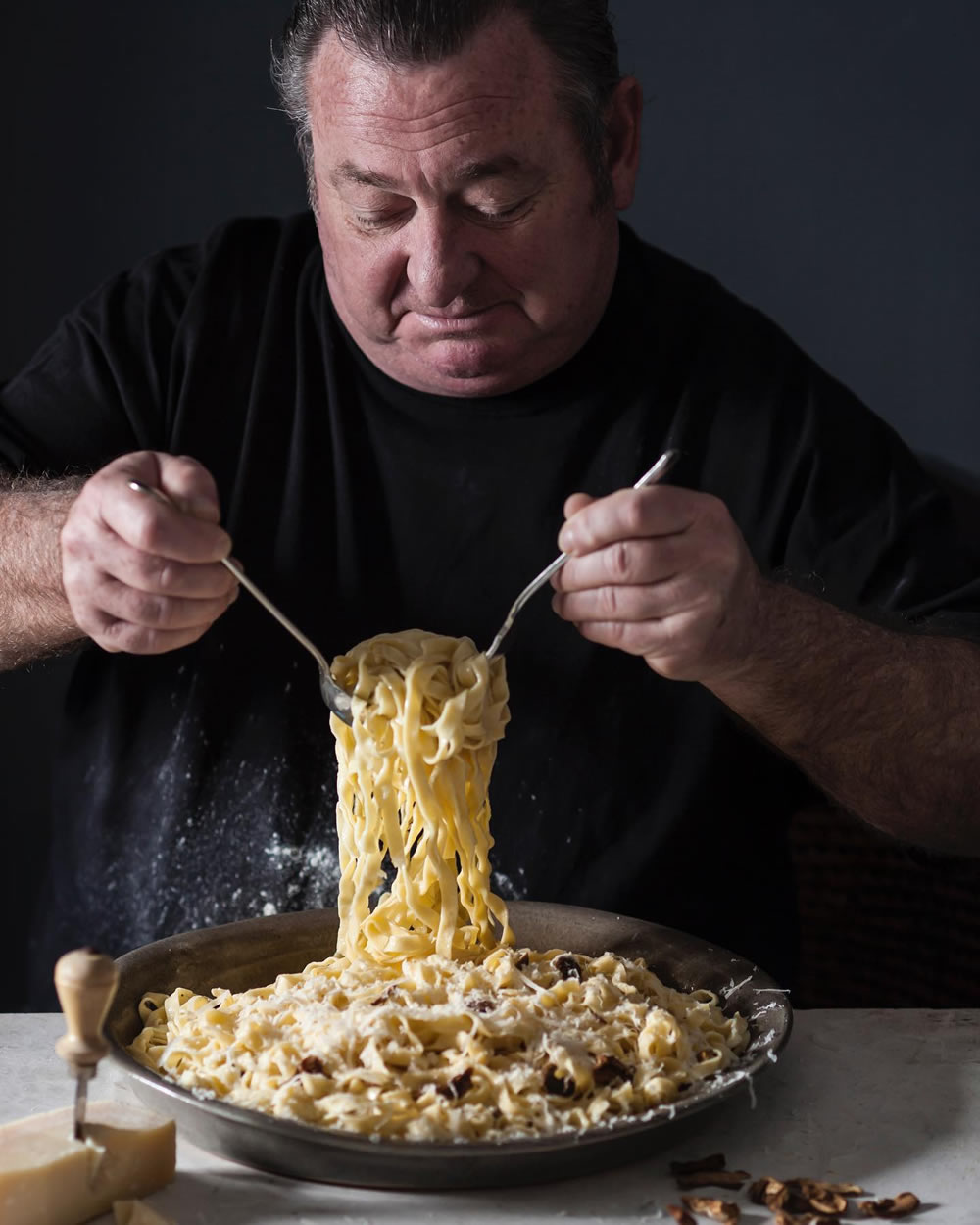 Photograph by Danillo Turilli
But first some more about Scarpetta. Ricky Turilli has been in the restaurant industry for more than 30 years, and when he retired found that he was heartily bored. Scarpetta is his personal retirement project, with the support of his family, and he recreates the no-nonsense vibe of the local Italian trattorias that he remembers from his father's home town of Rieti outside Rome, offering plain good food with no frills.
"It's relaxed, it's chilled, When I tell people to go and fetch their cool drink themselves, they look at me with this horror. The fridge is there. It's not a point of not giving you the cool drink. It's the vibe of getting up and going and fetching your own drink. In Italy most people grew up around their local trattorias, they've been going there since they were kids, they feel at home." And feeling at home is what Scarpetta is all about. "In Italy you get your drinks, sit down and somebody feeds you. That's the vibe here, I'm over the hoity toity thing!" Ricky decided against getting a liquor license, so you bring your own vino, or run out to the local deli, Salisbury's, if you forget.
Photographs by Kit Heathcock
"Never trust a skinny cook" says the sign on the wall. Ricky's robust person can obviously be trusted to enjoy good food and I was relieved to find that his serious brush with Covid in December last year has left him undaunted. The restaurant has also made it through all the lockdowns in good shape so far and on a Tuesday night was full and vibrant – everyone here feels comfortable talking and laughing loudly, and although noise levels rise as the tables fill, we can still hear each other comfortably.
After a quick rendition of Happy Birthday sung to our daughter, Ricky reels off the antipasti specials. My ears prick up at the mention of porcini mushrooms, (when they are in season Ricky makes the most of them and there's a porcini option for each course if you're a fan) and then again at fried zucchini flowers. The kids like the sound of the spinach and ricotta balls, which come four in a row on a bed of napolitana sauce, which we enthusiastically mop off the serving dish with cubes of focaccia. The courgette flowers are richly stuffed with ricotta and smoked salmon before being dipped in a light batter and fried, and the porcini mushrooms are just that – slices of gorgeous fresh porcini gently fried to tenderness with a whiff of garlic.
We've chosen three pastas instead of going for a meat course – Ricky didn't find any fresh fish that he deemed up to scratch today, so that is off the menu. But the rest of the seafood obviously met the mark – "I've got the best seafood pasta you've ever eaten – crayfish, prawns, clams, scallops, mussels, crab, sea snails…. the kitchen sink," Ricky jokes as he reels of the list of pastas.
Seduced by the largesse of this description, we splurged without asking the price (if you're on a limited budget it's worth checking before you order - really good fresh seafood doesn't come cheap, and fresh porcini mushrooms also come at a premium). But it was well worth it, the serving dish was piled so high with shellfish of all descriptions so that you could hardly see the bed of spaghetti and tasted amazing. Our spaghetti Bolognese served in a lidded pot was also a winner, and we enjoyed the ricotta and parmesan gnocchi with a fresh creamed pea and leek sauce.
Photographs by Kit Heathcock
Last time we visited Ricky hadn't been able to get fresh mascarpone for his wife, Melissa, to make tiramisu, but this time we're in luck, and it was a seriously good one, up to my husband's demanding gold standard. The other dessert option is cannoli, pastry tubes filled with whipped ricotta flavoured with lemon zest and candied peel, also lovely. This isn't the place to visit if you are on a diet or in a hurry! But if you want a convivial and relaxed evening with unpretentious good food Italian-style, you might just find yourself becoming another Scarpetta regular.
Where And When
85 Roodebloem Road,
Woodstock
083 251 0730
Opening
Monday to Saturday 6pm-10.30pm (Booking essential)
Neighbourhood Article
My original article for Sunday Times Neighbourhood when Scarpetta first opened: No Pretensions Just Really Good Italian Food At Scarpetta In Cape Town
Disclosure
We visited Scarpetta unannounced and paid for our meal in full.
Credit
Blog post thumbnail photo by Danillo Turilli