Shoreditch House – Cooking on Fire
2021-12-01
In a century-old grande dame of a hotel like The Winchester, on Sea Point's promenade, you might expect a restaurant that is rather traditional and decorous, certainly not an on-trend informal eatery that has ripped out the gas ovens and is cooking over fire!
Shoreditch House is the name, and the new space aims to channel the hip and happening vibe of this foodie London hotspot. "We were thinking of names and Shoreditch came up and we thought it's an old area that's now got a new lease of life, like the Winchester now after its revamp," says restauranteur Rory Jossel, who is the force behind Yu at The Onyx among others. He has a knack for creating informal restaurants within hotels that break the mould of traditional hotel restaurants, aiming for a relaxed vibe that attracts people in from outside. Certainly the tables spilling out filling the Winchester's much loved central courtyard, shaded by a patchwork of black and white umbrellas and adorned by a 50 year old bougainvillea that climbs all four stories of the hotel, are the perfect place to sit over lazy brunches and lunches with friends. Think morning cycle or stroll on the promenade, then retreating from the wind to this shady sheltered spot for bubbly and oysters to while away the afternoon.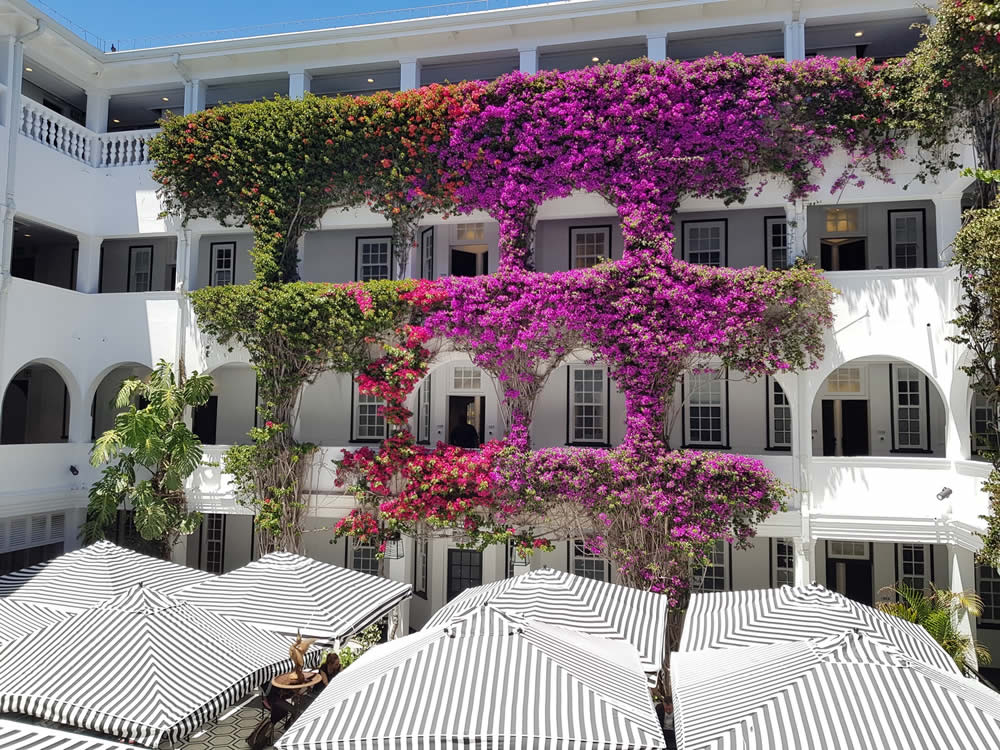 Photograph by Kit Heathcock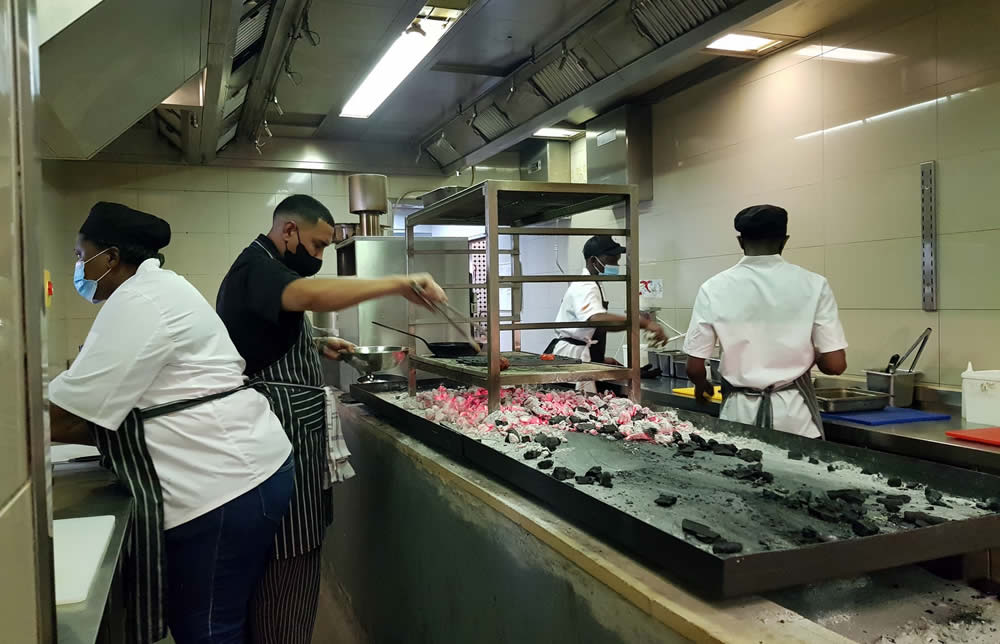 Photograph by Kit Heathcock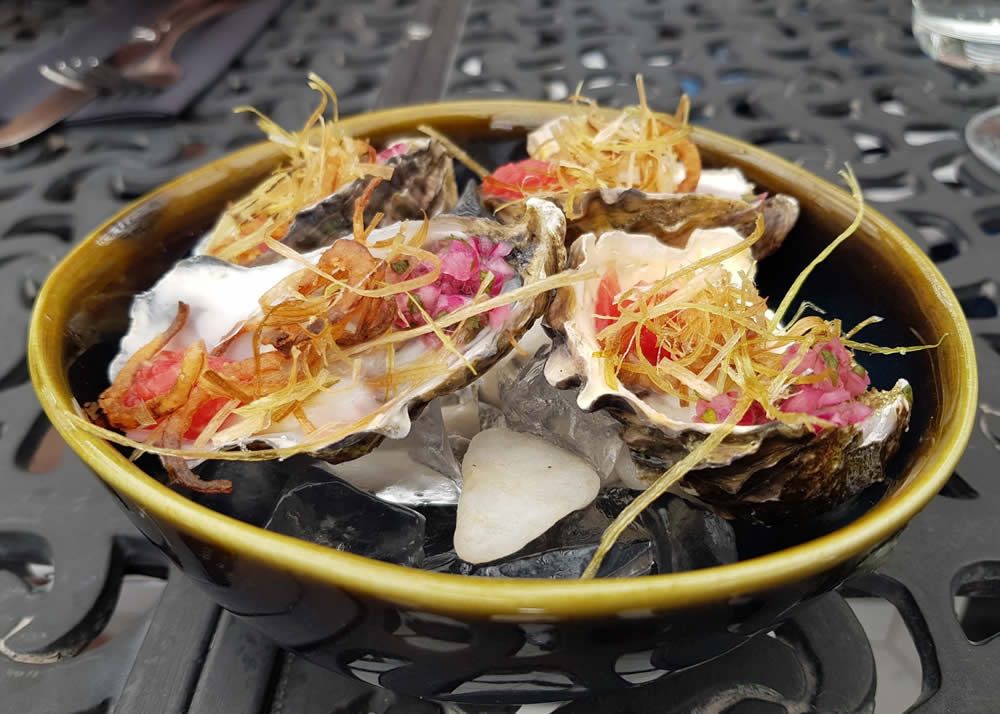 Photograph by Kit Heathcock
There's a teasing aroma of smoke as we wander out of Harvey's bar to the lobby, a hint of braai. Rory shows us into the kitchen where Chef Tim Pick, previously of Foxcroft, presides over a long central firepit. The coals are glowing red over half of it, with metal shelves and racks where a chef deftly turns chicken wings. A chorus of 'Oui, Chef', as he reads out the latest order… I hear tacos and tartare, enough to get the mouth-watering. It's hot in the kitchen not surprisingly, although not as smoky as I'd expected, and I wonder what it feels like on busy services when the whole length of the firepit is on fire. We retreat to the cool of the courtyard with a faint smokiness perfuming our clothes… the first dish that arrives to accompany the bubbly is indeed oysters, pretty in pink with pica de gallo, chipotle, crispy onions and watermelon ponzu.
Punchy flavours are the rule – eat with your hands, lick your fingers moreish – one standout is the peri peri chicken wings and amasi dip – the chicken gorgeously tender, delicious sticky glaze and the fresh soothing amasi to beat the heat. Seared springbok tartare, with some wonderful crunchy charred toast to scoop it up with, charred edamame beans to pick out of their pods and lick the black bean and chili dressing from sticky fingers, we're talking informal sharing here with no pretensions.
Photograph by Kit Heathcock
The mains are equally no fuss – relying on the simplicity of quick fire cooking and a few frills of on-trend flavours – a touch of yuzu to the charred sea bass, a herby dollop of chimichurri to the dirty rib eye. And the nostalgic pleasure of munching charred corn from the cob, flavoured with paprika and garlic butter. We ended up using our cutlery a little for the mains, but it was back to fingers for dessert with churros loaded with chocolate sauce and dunked in salted caramel ice cream. Who needs sophistication when the simple things in life give so much pleasure. And I know that cooking everything over fire isn't actually that simple – plenty of challenges to maintaining the right heat, keeping the coals going throughout service and maintaining consistency, but Chef Tim and team made it look easy.
Another thing to love right now is having so much outdoor space available. As well as the courtyard tables there are tables on the front stoep looking over the promenade. Shoreditch House at The Winchester looks like being a summer hotspot.
Where And When
The Winchester Hotel,
221 Beach Road,
Sea Point
021 110 5006
Disclosure
We visited The Shoreditch as guests of the restaurant. There was no obligation to write a positive view - I retain full editorial control and all views expressed are my own.